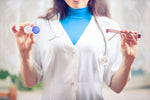 Correcting your vision is a no brainier, but choosing to wear prescription eyeglasses over contact lenses depends on more than just personal preference.
Your budget, lifestyle and aesthetics should all be considered in your decision-making process. Also, be mindful of the type of vision correction your glasses will provide you, the ease of usage, and consider your eyes' overall health. 
Prescription eyeglasses offer a significant amount of benefits over contact lenses. Eyeglasses require little maintenance and are often more cost-effective than contact lenses, since they don't need to be replaced as often as contacts; discount prescription eyeglasses can be found online at a price that is less than that of a 6-month supply of contacts.
Using corrective eyeglasses can also reduce your risk of contracting eye infections, because the use of contact lenses requires the user to touch their eyes; eyeglasses can greatly reduce this risk. Contact usage causes an oxygen reduction in your eye, which can cause and/or increase the severity of dry eye syndrome.
The use of contact lenses requires proper maintenance of lens care each day to avoid infections. If you believe that you cannot commit to the required amount of maintenance for contact lenses, choosing prescription eyeglasses or using daily disposable contacts may be a healthier choice. Contrary to what many believe, contact lenses are not meant to be slept in. Sleeping with contacts can cause your eyes to become dry, red and irritated. If you choose to sleep with contacts, consider extended wear lenses that are approved for up to 30 days, or select a pair of prescription glasses.
While many contact users will argue that while eyeglasses may be an overall healthier choice for your eyes, you cannot wear eyeglasses for strenuous activities such as sports and other outdoor activities. While this is partially true, the Ophthalmology industry has made great strides to accommodate athletes with poor vision, by providing them with options such as corrective sports goggles and sports frames.
Glasses can also act as an extension of your personality. Eyeglass Factory Outlet offers a large variety of discount eyeglass frames, in a variety of fashionable colors and styles that can speak volumes about your personality — the look of your glasses can make a bold statement.
While contact lenses provide less obstructions than glasses, wearing contacts can provide a wider field of view, causing less distortion than traditional prescription glasses. Contacts also provide an alternative option for correcting your vision that isn't affected by weather conditions.
So the decision of which corrective eyewear to wear— and when to wear them —is usually a matter of personal preference. Eyeglass Factory Outlet does recommend that if you are an advocate contact lens user, you should still own a pair of prescription eyeglasses to give your eyes a break or in the case of an infection.