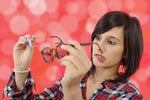 Shopping online can sometimes be a challenge because you can't physically try on the item before purchasing. If you are looking to buy discount eyeglasses online you should have an idea of what shape glasses are best for you.
Before making a decision on the type of eyeglass shape you should buy, it's good to compare what eyeglass frame shapes are best suited for what face type.
While most prescription eyeglasses online are unisex, the facial structure for men vs. women is an important consideration when purchasing new eyeglass frames. There are four main face shapes for men and women: round, square, oval and heart.
Round shaped faces. If you are a man with a round shaped face, the attraction area of your face is your cheekbones. The best-shaped glasses for round-faced men are rectangle or square. Since the emphasis is placed on your cheekbones, you want to choose prescription eyeglasses that will hit the top of your cheekbone and are wider, as opposed to longer. Similar to the recommended eyeglasses for men with round faces, women with round faces should look for large rectangle glasses or even cat-shaped eyeglass frames.
Square shaped faces. Both men and women who have square-shaped faces should purchase prescription eyeglasses that are round or oval. With the combination of a wide forehead and cheekbones, along with a strong jawline for men, round eyeglass frames can help reduce the appearance of a large forehead by adding to the brow line and cheekbones.
Oval shaped faces. If you have an oval-shaped face, you have a large range of flexibility for the eyeglass styles your face can pull off. Oval face shaped women should focus on cat-shaped glasses, and men should look at rectangular frames. Women can look at rectangle shapes; however, cat-shape is the ideal shape to compliment your beautiful face. Oval shaped faces should look at oversized glasses as well as bold colors, these can enhance your overall look while adding a fun touch to your outfit!
Heart shaped faces. Since your chin is the thinnest section of your face, you can enhance your appearance with narrow rectangular glasses. Rectangular eyeglasses can add width to your chin by taking away the angle of your face's heart shape. If you do decide to go with a wider pair of rectangle glasses, try not to go past your cheekbones, as this will create an even slimmer look on your chin.
Still not sure which prescription eyeglass frames are right for you? Eyeglass Factory Outlet has over 300 types of eyeglasses, not including our large collection of prescription sunglasses. All of our prescription eyewear is under $99.99 - with 95% of our glasses ranging between $24.99 and $49.99. All of our discount prescription glasses come with free shipping and a 365-day guarantee.
Shop our large variety of prescription glasses online and find the perfect shape for you today!